To eliminate the mystique and uncertainty of commercial real estate, Medawar patented his FACTS system of investing and reveals it for the first time in this book.
The FACTS system is:
Find the commercial deals & tenants
Analyze the property's numbers & the market
Control the negotiations & the contract
Time for the due diligence & financing
Strategize on property management & the highest & best use 
No matter what your education level, your background, or your current financial situation…you, too, can become wealthy with the right deal. Learn and apply Cherif's proven strategies contained in this landmark book. As Cherif frequently says, "Just one deal can change your life!" 
After reading this book, you, too, can profit from the investment vehicle of the rich. Cherif Medawar makes finding the deals and the tenants for your commercial deals simple. Learn & Apply!
Get the guidance you need to make it happen in 2023. Learn from this powerful book and work with Cherif every month to review your deals and make recession-resistant decisions investing— whether it's your 1st commercial deal or you're looking to scale your current portfolio. 
Download now before
I take this offer down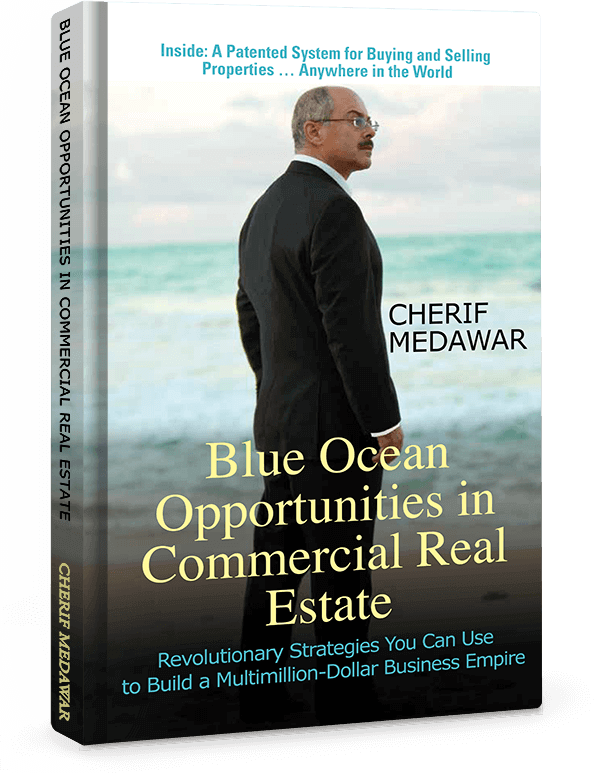 #1 Deal Maker
In Commercial Real Estate
#1 Best Selling Author
Blue Ocean Opportunities In Commercial Real Estate
#1 Mentor
For Commercial Real Estate Investing
CHERIF IS ON A MISSION TO CHANGE
Cherif Medawar has spent over 30 years creating applicable CRE strategies for every level of investor and breakthrough structures to scale!
Cherif's style of educating investors is in a class by itself. All levels of investors trained by Cherif will explain his way of teaching is like no other trainer out there and at a level that no one shares publicly.
Cherif's training models allow investors to use his Business Models & Strategies to invest on their own, with the network, or alongside him. Today, Cherif has over 1000+ success stories from people who have followed his systems and become successful in commercial real estate.
His successful methods have attracted ABC's "Shark Tank" celebrities such as Daymond John and the billion-dollar man Kevin Harrington. But most importantly, INVESTORS like you are learning from him! You are the people he is teaching and working with every day.

SEE WHAT INVESTORS ARE SAYING ONLINE
ABOUT THE BOOK
What People Are Saying About Cherif
#1 Best Selling Book for FREE