Unlock Cheirf's NEW CAPITAL RAISING SECRETS for any ECONOMY!
CHERIF WILL SHOW YOU THE
5 MOST CREATIVE BUSINESS MODELS

TO RAISE UNLIMITED CAPITAL FOR YOUR REAL ESTATE PROJECTS IN 2023
5 MOST CREATIVE BUSINESS MODELS

TO RAISE UNLIMITED CAPITAL FOR YOUR REAL ESTATE PROJECTS IN 2023
Learn the Secrets to Syndication, Real Estate Funds, Joint ventures, and Partnerships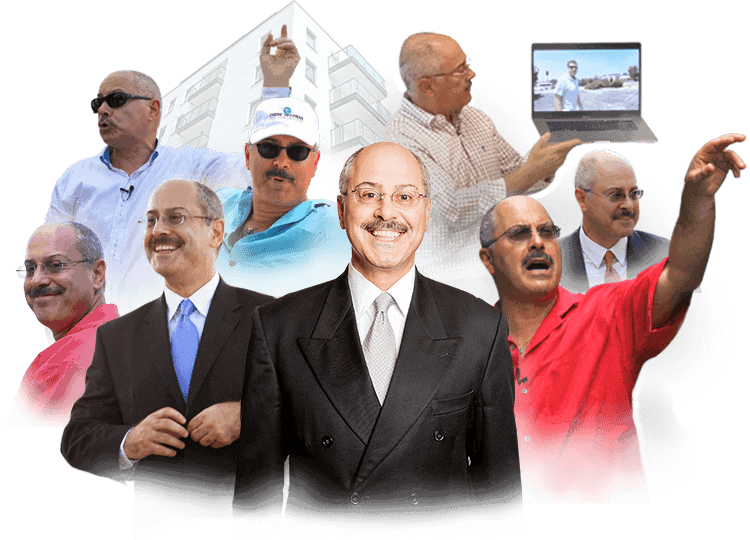 Are you struggling to secure funding for your real estate projects? As interest rates rise and the profitability of your deals is squeezed, it's time to consider how you are structuring your projects and how you are funding your deals.
Join the nation's #1 CRE deal maker, cherif medawar for a free training on how to raise capital & creatively structure your deals for maximum profit!
THE TRAINING WILL EXPIRE IN
Watch This VIDEO Message from
Cherif Medawar
This online event is any real estate professional who wants to take their business to the next level.
WHEN YOU SIGN UP FOR THIS FREE TRAINING, YOU WILL
ALSO GET ACCESS TO CHERIF'S EXCLUSIVE BONUSES
BEST-SELLER
"BLUE OCEAN OPPORTUNITIES IN COMMERCIAL REAL ESTATE"

FREE! ($19.99 VALUE)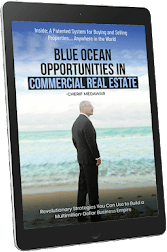 Do you need step-by-step instructions taught by a pro? If so, Blue Ocean Opportunities in Commercial Real Estate should be your next read. Presented in an easy-to-follow layout. The book talks about different types of Opportunities in commercial real estate.
To eliminate the mystique and uncertainty of commercial real estate, Medawar patented his FACTS investing system and revealed it for the first time in this book.
CHERIFISMS -
FIND THE PEACE IN THE STORM

($4.99 VALUE)
Get in the mind of America's #1 Commercial Real Estate Deal Maker – Learn what drives him from within. Get the creativity, knowledge, and motivation to make big money in commercial real estate! One commercial deal will change your life.
Each tweet in the book is Cherif's personal thoughts, sayings, ideas, and concepts based on commercial real estate and the market cycles. Listen anytime and anywhere with Cherifisms audio playlist. Access to YouTube Cherifisms Playlist with just one click.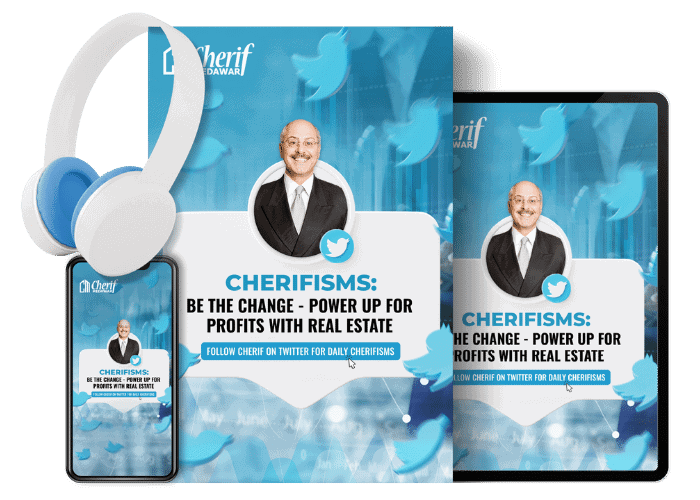 Cherif Medawar has spent over 35 years creating applicable commercial & residential strategies for every level of investor to breakthrough and scale their investing business! The industry is evolving and it's crucial you are informed by investors like Cherif to stay sharp and on your game. Cherif will cover the STRUCTURES that will take your Commercial Real Estate Business to the next level this year. Cherif is the future of real estate investing.
Whether you're a new investor or a seasoned PRO looking to build on and sharpen your skills, Cherif will give you a few strategies that can change the game. One deal and one structure can change your life. 
Register now to watch Cherif's Free 1-Hour Training. You don't want to miss this!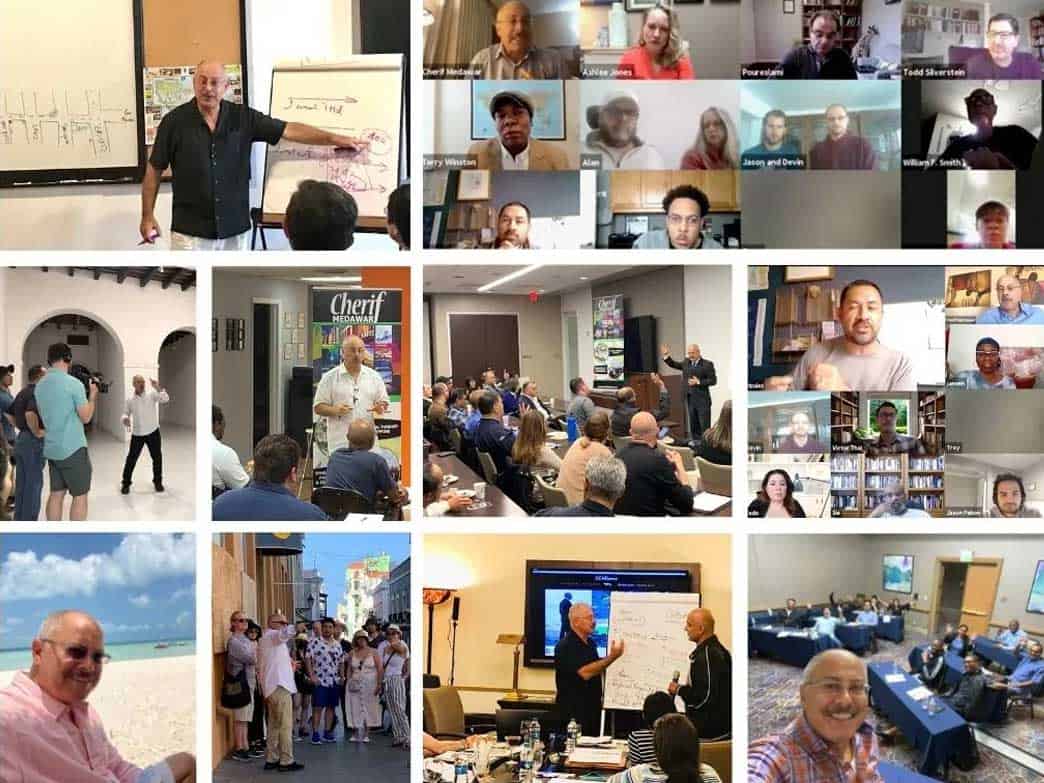 The Training Will
EXPIRE SOON!
REGISTER TO WATCH
THE FREE TRAINING
POWER UP FOR PROFITS WITH
REAL ESTATE EXPERT CHERIF MEDAWAR

KNOWLEDGE & EXPERIENCE
Cherif has been consulting and sharing his wealth secrets with real estate investors and professionals since 1999. He has authored several best-selling real estate books and taught thousands of people his unique systems of investing in commercial and residential property and how to raise capital and syndicate deals.

1000+ SUCCESS STORIES
Cherif prides himself on educating all levels of investors. Cherif's training model allows investors to use his own Business Models to invest on their own, with the network directly or along with him. Today, Cherif has over 1000+ success stories from the people who have followed his system and become successful.

EXPERTISE
Cherif is among the most accessible millionaires in the country; Cherif Medawar has for 26 years educated and advised attorneys, retired judges, small business owners, and professionals seeking real estate investments. His successful methods have attracted ABC's "Shark Tank" celebrities such as Daymond John and the billion-dollar man, Kevin Harrington.
JOIN CHERIF FOR HIS EXCLUSIVE VIRTUAL MASTERCLASS
YOU'LL BE AS HAPPY AS HIS OTHER 1000+ STUDENTS!
If you're in the real estate space and looking to scale and grow, Stop Googling and check out Cherif's program – highly recommended for serious individuals looking to take it to the next level. Thank you, Cherif!
Cherif Medawar is a true mentor and friend. His guidance in the real estate business has been invaluable. Cherif's CRE deal pro mastermind is mind-blowing, connecting us with real deal-makers nationwide. Grateful to have him in my corner!
Meeting Cherif has been life-changing for me. His advice and guidance have transformed my life, turning me from a small player into someone who's making big deals in real estate. I'm so grateful for this opportunity, and I truly believe the sky is the limit with Cherif by my side. Thank you, Cherif, for everything!
Hi, I'm Lenny Gutierrez, I was struggling to raise funds for my real estate career until I heard Cherif speak at a networking event. His expertise in structuring real estate deals was the missing piece I needed. With his guidance, we've successfully created a real estate fund, and now the sky's the limit for my career.
After struggling for five years to expand our commercial property, Cherif's guidance and one-on-one training on starting a real estate fund was a revelation. We now have a clear plan and even secured a line of credit from the bank at 7%. Thanks to Cherif, our real estate ambitions are finally taking off, and we can't wait to share our progress in the coming months!
Hi, I'm Mark Saw, and I just have to say, that my experience with Cherif was truly amazing. With my unconventional real estate background and funding goals, Cherif took the time to understand me and my aspirations. Unlike many educators, it wasn't a one-size-fits-all approach. Cherif provided personalized guidance and crafted a unique fund and strategy that's perfect for my journey in San Juan, Puerto Rico. Thank you!
Meeting Cherif in Puerto Rico was a game-changer for us. His expertise, attention to detail, and genuine kindness exceeded our expectations. We're grateful for the opportunity to work with him and see him as a mentor on our journey.
Hi, I'm Christian Albert, I joined his program, and it's been an amazing journey. Cherif helped me create the private placement memorandum, the 506(C) and taught me how to raise funds, build teams, and create effective systems. I highly recommend this program to anyone interested!
Cherif Is Ready To Take You From Surviving To Thriving Like A Pro.
Book Your Seat Now